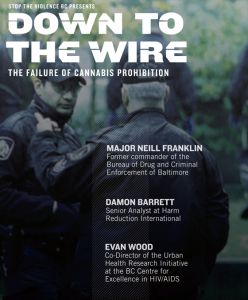 Down to the wire: The failure of Cannabis Prohibition in BC
SFU Woodward's Cinema |Thursday November, 10, 2011 | Doors at 630pm  Panel at 7 | Please register.
Live streaming available here
Stop the Violence BC presents Down to the Wire, a panel discussion on the failure of cannabis prohibition hosted by CBC Radio's Kathryn Gretsinger.
[button link="https://www.2mevents.com/index.php/event/down-to-the-wire-the-failure-of-cannabis-prohibition/store" color="orange"]Register Here[/button]
Panelists include:
Major Neill Franklin – Neill Franklin is a former Commander for the Bureau of Drug and Criminal enforcement and the Education and Training Division for Maryland State Police.  Through his work with Law Enforcement Against Prohibition, Neil has worked to raise awareness about the failures of prohibition and is motivated by the high number of civilian and police officer lives lost in the war on drugs.
Damon Barrett – Damon Barrett is a Senior Analyst with Harm Reduction International and leads their human rights program.  A member of the UK delegation to the UN Commission on Narcotic Drugs from 2008-2011, Damon has worked to raise the profile of drug policies at the UN Human Rights Council and through other UN mechanisms. Damon is also a co-founder of the International Centre on Human Rights and Drug Policy and an Editor-in-Chief of the International Journal on Human Rights and Drug Policy.
Evan Wood – Dr. Evan Wood is Co-Director of the Addiction and Urban Health Research Initiative (UHRI) at the BC Centre for Excellence in HIV/AIDS and the founder of the International Centre for Science in Drug Policy (ICSDP). Dr. Wood is a co-author of Stop the Violence BC's first report Breaking the Silence: Cannabis prohibition, organized crime and gang violence in BC.
 [hr]
Presented by:

149 West Hastings Street |
Vancouver, BC V6B 1H7