Thank you for considering making a donation to Stop the Violence BC.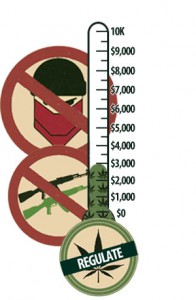 There are two main ways you can donate:
One Time Donation:
Your donation supports on-going report generation, communications, events and other educational efforts to stop the needless violence resulting from cannabis prohibition in British Columbia. Please click here to make a one time donation.
Monthly Donation:
We rely on donors like you to do the work that we do to raise awareness across British Columbia about the failure of cannabis prohibition. Donating monthly helps us ensure we have the core funding we need to achieve sustainability over the long-term of the campaign.
We encourage monthly donations in any amount; they can be made here on the St Paul's Hospital Foundation Website (directs to a new site). Please make sure to select the "I would like to make a recurring monthly donation" box under the Donation Frequency category.
All the Stop the Violence coalition members – law enforcement, physician and academic members included – donate their time cost-free to advancing an informed discussion of the impacts of cannabis prohibition in BC and evidence-based alternatives.
If you have other ways you would like to donate to Stop the Violence BC, or would like to host a fundraising presentation by a Stop the Violence BC coalition member, please email us here at info[at]stoptheviolencebc[dot]org.
—-
Interested in hosting a fundraising discussion on behalf of STVBC?
Here's a brief presentation on Stop the Violence BC, where we came from and where donations go. We're happy to share copies of this document and help you arrange a discussion. If you're interested in hosting please send us an email at info[at]stoptheviolencebc[dot]org.