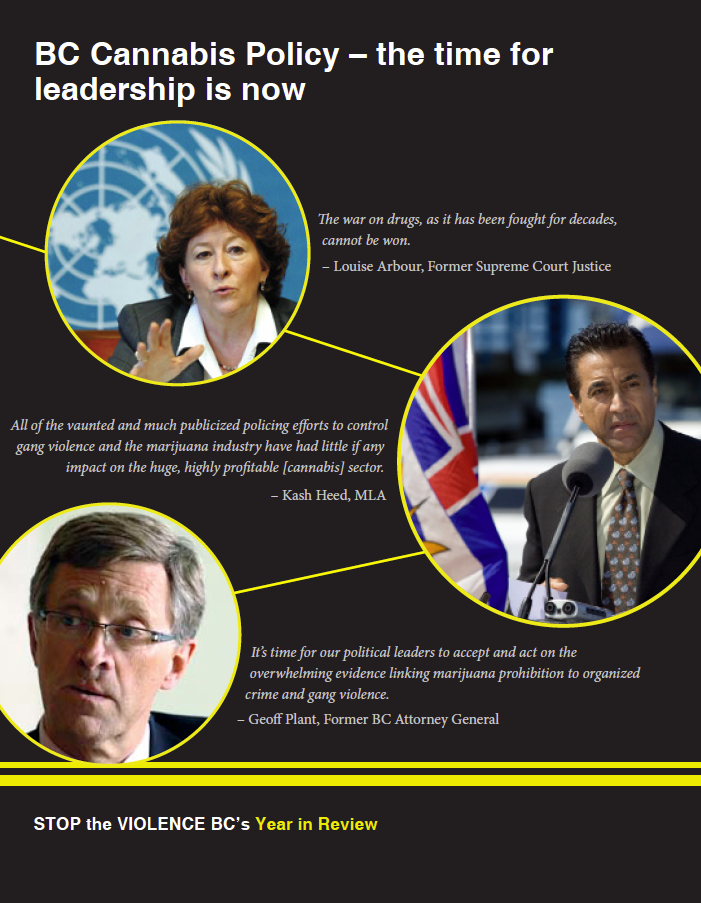 Building momentum
A remarkable and growing number of British Columbians are joining the call for the taxation and strict regulation of cannabis for adult use to better protect community health and safety while also reducing related organized crime activity and other community harms, such as the proliferation of illegal grow operations.
In October 2011, the Stop the Violence BC coalition – comprising researchers from B.C.'s four leading universities and some of the province's foremost experts in law enforcement, medicine, public health, and the law – released its first report, "Breaking the Silence." The report launched a public discussion regarding the failure of cannabis prohibition to suppress B.C.'s massive cannabis market and the role that existing cannabis policies play in threatening community health and safety in B.C. Since then, Stop the Violence BC has been advocating for a strictly regulated cannabis market for adult use under a public health model as a strategy to wage economic war on organized crime and to better control the province's high rates of cannabis use.
It has been one year since Stop the Violence BC's launch, but despite the groundswell of support for the taxation and regulation of cannabis, B.C.'s provincial leaders have largely refused to take action.
Today, we call on our provincial leaders to follow the example of the Union of B.C. Municipalities and tell British Columbians that they support researching a new approach to cannabis control – one that includes an impact assessment of the strict regulation and taxation of adult cannabis use under a public health framework.