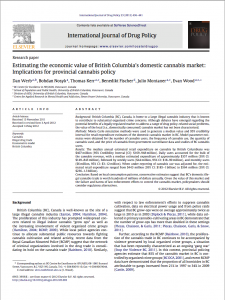 Downloads: Polling Data, News Release
Download the report from the International Journal of Drug Policy here.
British Columbia's annual domestic cannabis market could be worth more than $500-million, according to a new study by a coalition of researchers from the University of British Columbia and Simon Fraser University.
The study, published this month in the peer-reviewed International Journal of Drug Policy, is the first to estimate the size of B.C.'s domestically consumed cannabis market using provincial surveillance data. Researchers found that the estimated retail expenditure on cannabis by British Columbians was approximately $443-million to $564-million annually. The study concludes that regulating the provincial cannabis market could provide government with approximately $2.5 billion in tax and licensing revenues over the next 5 years.
Provincial policing agencies estimate that 85% of the cannabis market in B.C. is currently controlled by organized crime groups. Data on electrical power usage and from police raids suggest that the number of cannabis grow operations in the province nearly doubled between 2003 and 2010, further demonstrating the increasing involvement of organized crime groups in the domestic production and distribution of cannabis. This increase in gang activity has also corresponded with rising gang violence in the province, as the proportion of all homicides in B.C. attributable to gangs rose over 60%, from 21% in 1997 to 34% in 2009.
To download a copy of the study, please visit the International Journal of Drug Policy website here.